Why anti-icing?
Anti-icing systems are key equipment on  the aircraft platform. They are designed to keep free of ice all outer parts of aircrafts while in flight. Without anti-icing systems, the effects of ice accretion on an aircraft will change the shapes of airfoils and can modify the flight control parameters, which can ultimately lead to a complete loss of control and/or insufficient lift to keep the aircraft airborne.
Anti-Icing Screen for Rotorcraft
When helicopters operate in icy or snowy environmental conditions, the pilot needs to activate the anti-icing system. This anti icing system typically keeps the engine inlet surface at above 38°C (100°F)..
If outside air temperatures are very cold, extremely heavy icing conditions prevail, or the helicopter is maintaining a high forward airspeed, the engine air inlet anti-icing system will not be able to keep a temperature high enough to prevent the build up of ice in the engine inlet duct. So there is a high potential of ingestion of ice deposits by the engine.
Even when the engine air inlet anti-icing system is able to heat the engine inlet surface sufficiently, there is still the threat of random ice ingestion if deposits on rotors, the fuselage section, antennas are directed into the engine air intake stream. Shedding ice deposits from helicopters, often larger than household ice cubes, can be devastating to engine compressor blades.
In some case, engine inlet screens are used to avoid debris being swallowed. This screen without any anti-icing system is one more factor of ice accumulation and even can bring engine flameouts when air starvation occurs.
It has been demonstrated that some incidents or crashes are due to icy condition environments
The anti-icing grid is the solution for this. For 15 years THERMOCOAX has been marketing this safety solution for civil and military helicopters designed for very cold environments.
Key Parameters Anti-Icing Grid :
Power from a few watts up to 500 watt
Power density 0.19 w/cm²
Up to 400 volts, 1- or 3-phase
From 3 to 6 coils of heating elements
Composite edge
Temperature -40 to 90°C
Altitude 25 000ft
Designed to resist of impact of debris diameter 60mm, speed 300km/h
MIL and/or RDO160 qualification
Waste Water Drain Mast with Anti-Icing:
The drain mast is an on-board solution for pulverization of grey water from the lavatory out of the airplane or helicopter. Equipped with anti-icing solution makes the drain mast safe when used during flight. We have the drain mast with anti-icing for rear and middle position on the fuselage. We offer anti-icing with self-regulated technology or regulated by switches 
Our cable technology allows the water pipes and not the shell to be heated, for the most efficient anti-icing result. The self-regulated anti-icing version can be lighter compared with a regulation by switches. The anti-icing cable is shaped around the water pipes.
For better conductivity and to withstand flying conditions, cables and pipes are brazed together. The power is defined as a function of the power supplied on the aircraft and the outer casing is designed to have a good anti-icing system
Key Parameters Anti-Icing Drain Mast: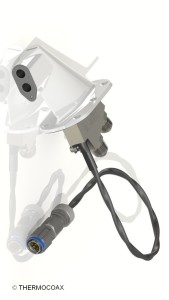 Heating design: self-regulated or regulated by switches
Thrue Cold Ends
-60°C T +85°C ambient temperature
Load in all directions 400 Newtons
-2000 to + 41 000ft
Mach 0.9
Power Supply: 28 Vcc or 115 Vac 400Hz
Dielectric  1500Vac
Power up to 50 watt for small size
Power up to 300 watt for large size
Temperature switch for security
Composite Shell
Weight < 1000 gr
Qualification to RTCA DO 160 / MIL
Description:
 The heating cable is shaped around the water pipes. For a better conductivity and to withstand flying conditions, cable and pipe are brazed together. The power is defined as a function of the power supplied on the aircraft and the outer casing is designed to have a good anti-icing system
Digital Mock Up with CFD Analysis